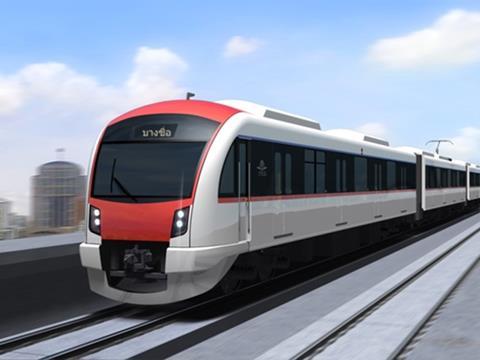 THAILAND: Nippon Signal has awarded a contract to Thales for the supply of European Train Control System Level 1 for the Bangkok Red Line.
Being developed as part of part of Bangkok's Mass Rapid Transit Master Plan, the elevated suburban rail line is being built in two phases. These will meet at Bang Sue in the centre of Bangkok. The 26·4 km Red Line North will run to Rangsit and is being funded by a JICA loan. The 14·6 km Red Line West will connect to Taling Chan and is being funded by the government. Completion is expected in 2020.
The Red Line will serve 13 stations and is expected to carry 131 000 passengers a day. Part of the route will be four-tracked, with suburban trains running alongside long distance services.
Under a contract awarded by Mitsubishi Heavy Industries in January, Nippon Signal is to supply and integrate computer-based interlocking, Automatic Train Supervision, Automatic Train Protection and a train detection system.
The 25 electric multiple-units being supplied by Hitachi will be equipped with onboard ETCS equipment, as will two existing diesel vehicles. There will be provision to upgrade to ETCS Level 2 in the future.
In 2016 State Railway of Thailand awarded a 32·4bn baht contract for E&M works to a consortium of Mitsubishi Heavy Industries, Hitachi and Sumitomo Corp. MHI is responsible for track, catenary, power distribution, signalling and communications, with Sumitomo acting as systems integrator.