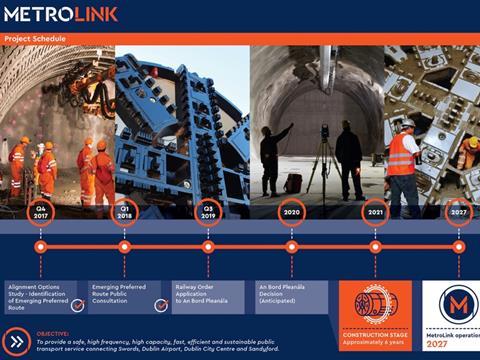 IRELAND: A consortium of Jacobs Engineering Group and Idom has been selected by Transport Infrastructure Ireland to assist with development of the Dublin MetroLink north-south metro line, under a contract announced on May 9.
Working with TII and the National Transport Authority, the consortium will take the scheme through the evaluation and selection of a preferred route, including business case and environmental support. It will also develop and apply for the Railway Order needed to authorise construction, while assisting with the development of the contracting strategy and engagement of a delivery partner. Jacobs and Idem would then provide technical and commercial support to TII and NTA throughout the construction phase.
NTA and TII began public consultation on the so-called Emerging Preferred Route the end of March and this process is due to conclude on May 11. Among those expressing concerns, Taoiseach Leo Varadkar has called for changes to the alignment in the Glasnevin area to minimise the impact of construction on a community sports centre.
According to the National Development Plan 2018-27, MetroLink would provide 'a high capacity, high-frequency cross-city rail corridor', serving 15 new and 10 existing stations. It would run for 26 km from Estuary north of Swords to Sandyford in the southeast via Dublin Airport and the city centre, combining earlier plans for a Metro North route between Swords and St Stephen's Green with a section of the Luas Green Line as far as Sandyford.
Requiring an extensive tunnel under the city centre, MetroLink is expected to cost between €3bn and €4bn. According to an analysis by French engineering consultancy Systra, the benefit:cost ratio is estimated to be between 2·4 and 3, mainly predicated on journey time savings.
According to NTA, the line would be required to carry up to 15 000 passengers/h per direction at peak times, which would be more than a light rail or bus route could accommodate. 'MetroLink will have the capacity for 30 trains/h in each direction, so there is no doubt that it will greatly enhance the public transport offering in Dublin', the authority explained.
The stand-alone metro project has been preferred over an alternative proposal from Iarnród Eireann to build a short branch off the existing rail network, which IE argued could connect the airport with the whole of Ireland.
The metro project is expected to create around 4 000 jobs during construction. Following the public consultation, NTA expects to apply for the Railway Order next year. If this is granted in 2020 as expected, construction could get underway the following year for opening in 2027.