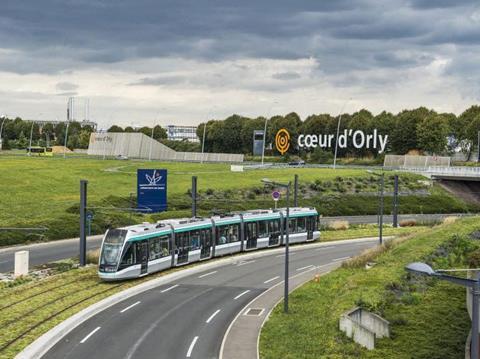 FRANCE: Construction of light rail route T9 in the inner southwestern suburbs of Paris is expected to begin later this year following the signature of a funding agreement for the €404m project. The Ile-de-France region is providing 52∙5% of this total, its funding partners being central government (22∙5%), the département of Val-de-Marne (21%), the City of Paris (3%) and EPT Grand-Orly Seine Bièvre which brings together 24 local authorities (1%).
T9 would run for 10 km from Porte de Choisy on metro Line 7 to the centre of Orly, serving a total of 19 stops and also providing interchange with RER Line C and route T3a. Expected to carry 80 000 passengers a day, the light rail route would relieve bus route 183 and serve an area where population growth of 15% is forecast by 2020 when T9 is due to open.
As well as funding construction, the Ile-de-France region will be providing €10m to meet the cost of operations during the first year in service. The region is also meeting the €75m cost of rolling stock for T9, a fleet of 22 LRVs each capable of accommodating up to 300 passengers.
Rolling stock is to be maintained at a new depot in Orly that is already under construction. Preparatory works for the T9 project had started in 2016, including utility diversion and some demolition.