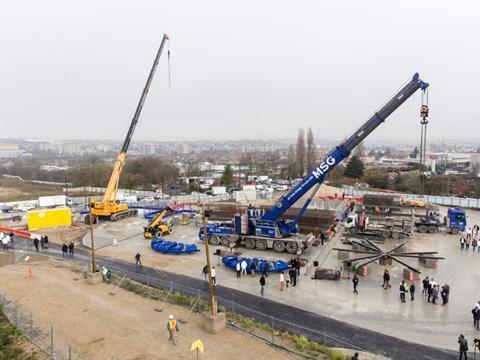 FRANCE: Prime Minister Edouard Philippe and Transport Minister Elisabeth Borne have confirmed changes to the planned construction timetable for the Grand Paris Express automated metro. Announcing details of the revised construction schedule on February 22, the government reaffirmed that the 200 km project would go ahead in its entirety, but with a completion date of 2030.
Setting out the revised schedule, the government said that priority would go to those lines benefitting the highest number of residents. These are Line 15 South between Pont de Sèvres and Noisy-Champs, the northern and southern extensions of Line 14, and the common section of Lines 16 and 17 between Saint-Denis Pleyel and Le Blanc-Mesnil. These are all needed for the 2024 Olympic Games, the government said.
Also scheduled to be finished by 2024 is the section of Line 16 between Le Bourget RER and Clichy-Montfermeil. The gap between Clichy-Montfermeil and the eastern terminus of Line 15 South at Noisy-Champs will now be finished 'no later than 2030', whereas previously the whole of Line 16 from Saint-Denis Pleyel to Noisy- Champs was to have been completed by 2023.
Lines 15 East and West are to be built by 2030, and the Line 17 section as far as Triangle to Gonesse by 2027, with the extension to Le Mesnil-Amelot by 2030. The first part of Line 18 serving Orly and the Saclay Plateau, designated by the government as a technology development area, is to be finished by 2027 at the latest, with the section serving Versailles following by 2030.
The government insisted that even the revised timetable was ambitious, given the amount of simultaneous construction work and the fact that some of the geology along the various tunnelling routes remained uncertain.
In addition, the government has set Société du Grand Paris a target of cutting the cost of the project by 10%. In the meantime SGP is to be given additional resources to allow more staff to be employed to manage the different strands of the project.
On February 20 Vinci Construction, in association with Spie Batignolles, was awarded a €400m contract for construction of 4·6 km of tunnel on the southern extension of Line 14 from the site of the future station at Maison-Blanche Paris XIII to a TBM launching shaft at Jean Prouvé. The contract includes the station at Kremlin-Bicêtre Hôpital.
In December, a consortium of ETF and TSO was awarded a contract by RATP for work on extension of the rubber-tyred Line 11 from Mairie des Lilas to Rosny-Bois-Perrier with six stations.