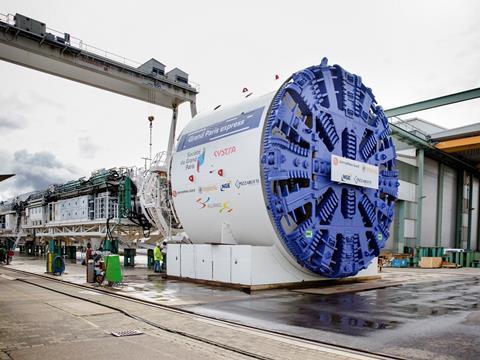 FRANCE: Line 15 South of the Grand Paris Express automated metro project around Ile-de-France is unlikely to be open in time for the French capital to host the Olympic Games in 2024, the project promoter has said.
Speaking to the Le Parisien newspaper on September 25, Thierry Dallard, President of delivery organisation Société du Grand Paris, admitted that this priority section of the network would almost certainly not be ready until at least 2025.
Grand Paris is one of the most ambitious infrastructure projects in Europe, requiring the construction of around 200 route-km of underground metro lines for driverless operation. Earlier this year the French government reviewed the cost and timescales of the programme, asking SGP to reduce the budget by 10% and extending the delivery timescale on several sections. The full network is now not likely to be completed until at least 2030, and the budgeted cost is €35bn.
Priority sections for completion ahead of the Olympic Games included Line 15 South between Pont de Sèvres and Noisy-Champs, the northern and southern extensions of Line 14, the common section of lines 16 and 17 between Saint-Denis Pleyel and Le Blanc-Mesnil, and the section of Line 16 between Le Bourget RER and Clichy-Montfermeil.
Dallard suggested that with the exception of Line 15, these schemes remained on course to meet the deadline. However, he reiterated that working underground in complex geological conditions in an urban environment meant that 'nobody could guarantee that there would not be delays'.
He said that by 'next spring' he expected to have an 'exhaustive' understanding of the status of each part of the programme, including sections of lines 15, 16 and 18 which are now not forecast to open before 2030.