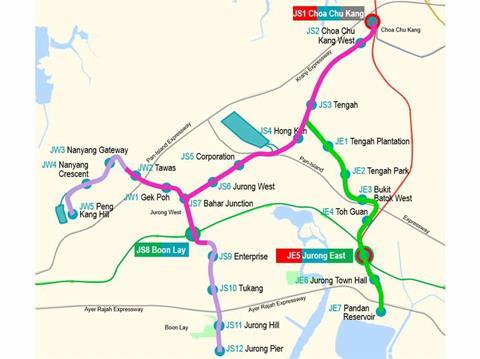 SINGAPORE: Land Transport Authority has awarded two design-build contracts for civil works on five stations on the future Jurong Region Line, it announced on September 10.
Work is due to begin next year and be completed in time for the opening of the first phase of the metro line in 2026.
Shanghai Tunnel Engineering Co (Singapore) Pte Ltd has been awarded a S$465·2m contract to build the three easternmost stations on the line: Choa Chu Kang, Choa Chu Kang West and Tengah stations, along with the 4·3 km viaduct connecting them. The scope of work includes expanding the existing Choa Chu Kang station on the North-South Line to provide interchange with the Jurong Region Line.
A joint venture of Eng Lee Engineering and Wai Fong Construction has a S$274·3m contract covering Hong Kah and Corporation stations and the 3·4 km viaduct between them.
The elevated Jurong Region Line is scheduled open in three stages. When complete the 24 km route will serve 24 stations. Initial ridership is forecast at 200 000 passengers a day, rising to 500 000 once urban developments in the areas served by the line are completed.