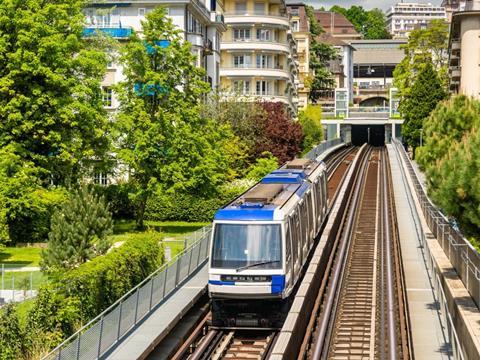 SWITZERLAND: The canton of Vaud has awarded two contracts to increase capacity on the automated metro in Lausanne. The project includes the construction of a third line.
The network operated by Transports Lausannois is struggling to cope with growing ridership. To deal with this, the city is undertaking the Strong Axes project to increase capacity on the existing Line m2 and to expand the network.
A contract covering signalling and rolling stock for both lines has been awarded to the SyMeo consortium led by Egis and including BG Ingénieurs Conseils. E&M work will be undertaken under a separate contract awarded to the BGE m3-m3 consortium led by BG Ingénieurs Conseils and including Egis and GESTE Engineering.
Work to increase capacity on the 6 km Line m2 includes the creation of a passing loop and station remodelling to reduce congestion, as well as a signalling upgrade and fleet expansion to reduce headways. These changes are due to be in place by the end of 2023.
The planned 4 km Line m3 with seven stations would connect the main railway station with Blécherette to the north. Due to open in late 2025, it will use the same signalling and rolling stock as Line m2 so that the two are interoperable.