CHINA: December 28-30 saw the opening of metro and tram extensions in seven Chinese cities, as the country's urban rail expansion programme continues unabated.
The capital of Shandong province, Jinan, opened its 21·6 km north-south Line 3, liking Tantou and Longdong. This has 14 stations, of which only 13 are initially being served. The line is operated by a fleet of six-car Type B2 trainsets supplied by CRRC Qingdao Sifang which have a maximum speed of 100 km/h.
At present Line 3 remains isolated from the 26·3 km Line 1 which opened in April 2019, but the two are due to be connected when the 36·4 km Line 2 opens later in 2020.
A northern extension of Zhengzhou metro Line 2 from Liuzhuang to Jiahe has added 10·3 km and six stations, taking the north-south line to 30·8 km and 22 stations in total. This follows the opening of a short eastern extension of east-west Line 1 from Wenyuanbeilu to New Campus of Henan University on November 21 2019.
December 28 also saw the opening of a short western extension of metro Line 1 in Guiyang, running from Xiamaixi to a new terminus at Douguan.
Tianjin Line 1 was extended eastwards from Lilou to Donggulu, adding a further four stations.
In Guangzhou, a 1·8 km extension of Line 8 from its western terminus at Fenghuang Xincun has taken the line under the Pearl River and north to Cultural Park, adding two stations. In the longer term, Line 8 will be extended to Jiaoxin in the northwest of the city.
A further section of the Chongqing Loop Line was opened on December 30. The 9·5 km southern section runs from the former terminus at Haixialu in the southeast to Erlang in the southwest, crossing the crosses the Yangtze River on a bridge. This has added five stations, of which four are underground and one elevated. The final southwestern part of the Loop Line between Erlang and Chongqing Library is expected to open in December 2020. The same day saw the opening of a 5·6 km western extension of Line 1 from Jiandingpo to Bishan, adding a single station.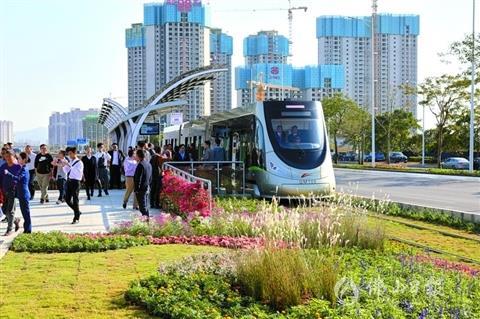 December 30 also saw the start of revenue services on the first 6·5 km long section of the Gaoming tram line in Foshan, running from Zhihu to Cangjianglu.