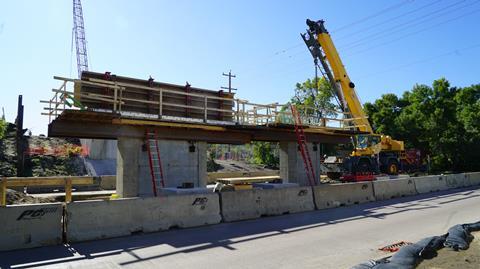 USA: Railway systems for the Southwest LRT extension of the Green Line light rail route in Minneapolis are to be supplied by a joint venture of Aldridge and Parsons under a $194·4m contract awarded by the Metropolitan Council on September 18.
The deal covers the supply and installation of overhead line equipment, traction power supplies and communications for the 23·5 km extension from downtown Minneapolis to Hopkins, Minnetonka and Eden Prairie.
This is the second-largest contract for the project, after the $800m civil works package awarded in November 2018, and means that 97% of all Southwest LRT contracts have now been awarded. Local firm Aldridge had previously undertaken systems work on the initial phase of the Green Line, the Central Corridor linking Minneapolis and St Paul. Parsons worked on the city's Northstar commuter rail line.
Award of the systems contract follows the receipt of a Letter of No Prejudice from the Federal Transit Administration on August 30, ensuring that early construction work is eligible for federal reimbursement once the Full Funding Grant Agreement has been finalised. With agreement currently expected in early 2020, the FFGA would provide a federal contribution of $929m to meet almost half of the total project costs.
Describing the award as a 'major milestone', Met Council Chair Nora Slawik said 'we look forward to working with our project partners and stakeholders as we seek approval of the FFGA, and are eagerly anticipating opening day in 2023'.