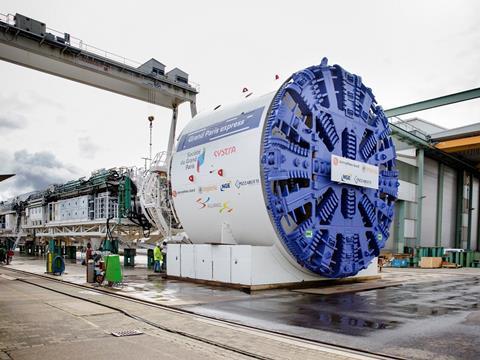 FRANCE: Société du Grand Paris has announced the award of construction contracts for sections of Lines 14, 16 and 17 which need to be completed in time for the 2024 Olympic Games. Worth €1·84bn, the work has been placed with a group formed of Eiffage Génie Civil, Razel Bec, Eiffage Rail, TSO and TSO Caténaires.
The contracts cover the extension of Line 14 from Mairie de Saint Ouen to Saint-Denis Pleyel, the common section of Lines 16 and 17 between Saint-Denis Pleyel and Le Bourget RER, a link to the maintenance depot for Lines 16 and 17 at Aulnay-sous-Bois and the Line 16 station at Le Blanc-Mesnil, plus a section of Line 15 at Saint-Denis Pleyel. The works require six tunnel boring machines and include excavation of four tunnels totalling 19·3 km, a 600 m cutting, construction of 18 bridges and other structures, a box below the station at Stade de France, and civil works at four stations. The contracts also include supply and installation of track and overhead wires on 16 km of Lines 16 and 17.
Funding for the works was covered in a revised budget approved by SGP's Supervisory Council on February 13.
In the meantime, details of a revised timescale for the rest of the project are expected to be announced formally. At a meeting with mayors and local authorities affected by the project on February 16 Transport Minister Elisabeth Borne confirmed that construction of many sections of the various lines will be delayed. Earlier, on January 26, Prime Minister Édouard Philippe had indicated that the project would go ahead in its entirety, but not to the original timescale.
Few firm details were available after the meeting on February 16, but suggestions that construction of some sections could take up to five more years than previously envisaged provoked angry reactions from the President of the Ile de France region Valérie Pécresse and other officials representing towns and communities along the affected routes.
A leaked SGP document obtained by Le Parisien suggested that Line 15 South, due to be finished by 2022, will be delayed until 2024 or 2025. Line 15 West may not be completed until 2029 instead of 2025, and Line 15 East would open in 2027 or 2031 instead of 2025. Delays would also affect Lines 16, 17 and 18, with some routes not finished until 2030 in the worst case scenario.