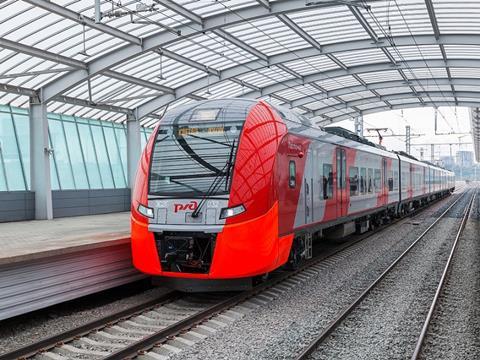 RUSSIA: President Vladimir Putin approved the first phase of an RER-style network planned for Moscow on November 15.
Earlier this month Mayor Sergei Sobyanin announced plans to create links between the existing radial rail routes into the city. At least five such RER routes are to be developed at a total cost of 40bn roubles, with existing lines upgraded and large diameter tunnels bored where required.
The first phase would cover two above-ground routes, branded Moscow Central Diameters. MCD1 would link Lobnya in the north with Odintsovo in the west via Dolgoprudny and Skolkovo on a 50 km alignment. MCD2 would run from Nakhabino in the west to Podolsk in the south.
End-to-end journey times would be about 1 h on both routes, with services running every 6 min, compared with less frequent and less regular services on the current lines.
Work is due to begin soon, with opening planned by mid-2019. The infrastructure upgrades are estimated to cost around 8bn roubles for MCD1 and 12bn roubles for MCD2. This compares with an estimated cost of up to 250bn roubles to build a metro line along the same route, according to Sobyanin. Funding will be split equally between the city and Russian Railways.
Ridership is forecast at 300 million passengers a year on the two lines and the Moscow Central Ring, which was opened last year.