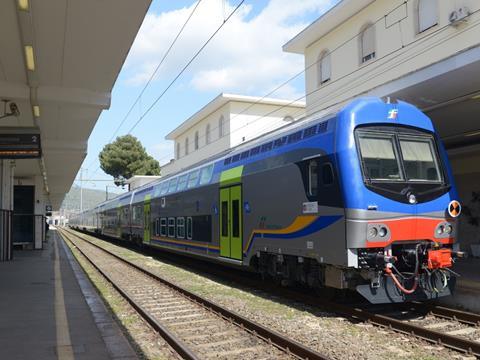 ITALY: The region of Lazio has signed a framework agreement with infrastructure manager RFI for the upgrade of several suburban lines serving Roma. The agreement signed on February 22 includes projects worth €665m over five years, which would be financed by RFI.
Signalling is to be upgraded between Settebagni and Orte north of the city, as well as on the route between Roma Tiburtina and Cesano via Roma Ostiense. This would enable increased frequencies on the busiest suburban lines: FL1 (Orte – Fiumicino Airport via Roma Tiburtina) and FL3 (Roma Tiburtina – Viterbo via Ostiense).
A separate project would upgrade signalling on lines FL4 and FL6 between Roma Termini and Ciampino to the south, where the station is to be remodelled to increase capacity and speed from 30 km/h to 60 km/h.
Double-tracking is due to take place between Lunghezza Aniene and the future Guidonia Collefiorito station to the east of Rome on line FL2 which runs between Roma Tiburtina and Pescara via Tivoli. The Campoleone – Aprila section on lines FL7 and FL8 to the south of Roma is to be doubled and its signalling upgraded. Both stations are to be remodelled with the aim of increasing services through them to six trains/h per direction.
The first phase of a new main line station at Pigneto is also due to be completed. Under construction since June, this would allow interchange between suburban lines FL1 and FL3, metro Line C, and trams.
The framework contract also includes options to build two new stations over the next 10 years: Massimina on line FL5, and a station on line FL7 between Paglian Casale, Divino Amore and Statuario.
The agreement also contains details of longer-term plans, which envisage a further €2·6bn to be spent. These include the second phase of Pigneto station, doubling the Cesano – Bracciano section of the line to Viterbo, completion of the railway ring's missing section in the north, building a second line to Fiumicino Airport, and quadrupling of the route between the towns of Ciampino and Bivio Capannelle.