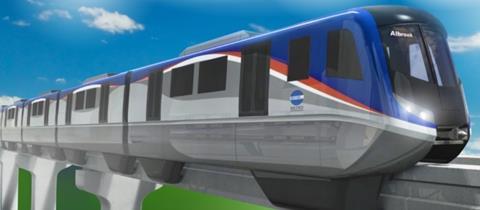 PANAMA: Metro de Panamá has selected a South Korean consortium as preferred bidder to carry out civil works on the capital's third metro line.
The HPH joint venture of Hyundai Engineering & Construction Co, POSCO and Hyundai Engineering Co has been chosen for the 54-month contract. It beat bids from China Railway Group, a consortium of Acciona Construcción and China Power, and a consortium of FCC, CICSA and SKEC. Three further parties had prequalified but did not bid.
The 26·7 km Line 3 monorail would serve 14 stations on an elevated alignment from Albrook station on metro Line 1 to Ciudad del Futuro. The end-to-end journey time would be 45 min, with some services from Albrook will terminating short at Nuevo Chorrillo. Initial capacity will be 20 000 passengers/h per direction.
In 2018 Metro de Panamá signed a memorandum of understanding with Hitachi, Ansaldo STS and Mitsubishi Corp for the supply of vehicles and railway systems, including a fleet of 28 six-car trainsets.