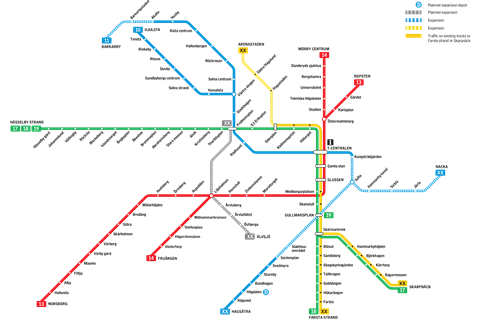 SWEDEN: Siemens Mobility has been selected to deliver electrification and power supplies for the Stockholm Metro expansion programme.
The €21m contract awarded by Region Stockholm's Extended Metro Administration covers electrification works for four separate extensions.
The programme includes construction of a 4·1 km Yellow Line running north from Odenplan to Arenastaden, adding three stations, and the 4 km northwestern extension of the Blue Line from Akalla to Barkarby with two stations. The 11·3 km southeastern extension of the Blue Line will run from Kungsträdgården to Nacka, with a branch from Sofia to Sockenplan, from where it will take over the Green Line branch to Hagsätra. Planning is also underway for a line linking Fridhemsplan and Älvsjö via Liljeholmen which is intended to relieve the central and southern sections of the Red Line.
Siemens Mobility will be responsible for design, installation, testing and commissioning of 15 rectifier stations with 36 kV and 750 V DC switchgear and auxiliary power systems, as well as 28 network stations with 36 kV switchgear and 420 V transformers. It will also undertake the laying of both 33 kV and 750V cables for the Akalla – Barkarby extension.
Work will start immediately, for completion in stages over several years as construction of the various lines progresses.
'A well-functioning metro is an important factor in everyday life for residents of the Stockholm region', said Siemens Mobility co-CEO Michael Peter. 'When the Yellow Line and other extensions are in place, even more people will be able to use this efficient and sustainable mode of transport.'