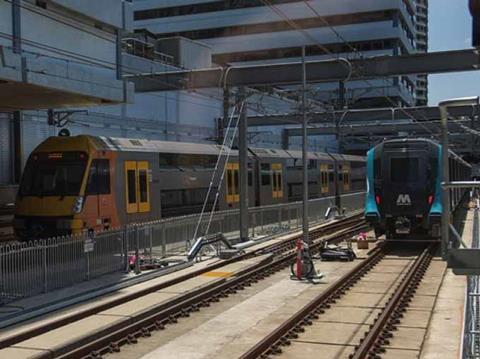 AUSTRALIA: The first test along the full length of the Metro Northwest route in Sydney took place on January 14, when a train travelled the 36 km from Tallawong in the northwest to Chatswood.
The initial phase of the city's first metro line is due to open in the second quarter of the year. Alstom has so far delivered 17 of the 22 driverless trains, and installation of platform screen doors at all 13 stations is complete.
The A$8·3bn Metro Northwest route runs from Chatswood to Epping over a converted heavy rail line, then continues through a new twin-bore tunnel to emerge onto an elevated alignment terminating at Tallawong.
The City & Southwest extension from Chatswood to Bankstown via the city centre is expected to open in 2024. On January 15 the third of five tunnel boring machines was launched. TBM Wendy is boring the 6·2 km from Chatswood to Blues Point on the north side of Sydney Harbour.
TBMs Nancy and Mum Shirl were launched last year and are tunnelling north from Marrickville to Barangaroo. Two more TBMs are due to start work this year, including one designed to tunnel under the harbour. Herrenknecht is supplying the 150 m long machines.