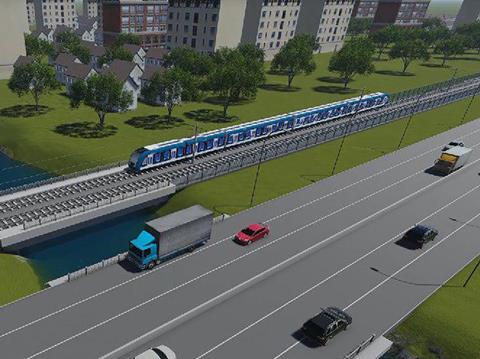 UZBEKISTAN: The proposed orbital urban railway around Toshkent is to be built to metro rather than suburban rail standards, the government has decided after evaluating technical studies compiled by transport institute Boshtransloyiha with the assistance of foreign experts.
The original proposal approved by President Shavkat Mirziyoyev in April was for a 72·1 km double-track electrified suburban railway paralleling the ring road, running mostly at ground level with 6 km of flyovers and 26 stations. However, further studies concluded that this would form a barrier to the development of the city and create conflicts with road traffic.
As a result, the proposal has been changed to a 52·1 km metro orbital alignment at a shorter radius from the city centre, with 1·6 km at grade and 50·5 km on a 6 m high viaduct. There would be 35 stations, including interchanges with current and planned stations on the underground metro network.
Construction of the line is expected to be completed within four years at a cost of US$422m, compared to the estimated three years and US$265m for the initial proposal.
National railway UTY and bridge construction company Kuprik Kurilish Tresti have begun initial works for the project, which is be undertaken in five phases. The first stage of the line would run 11 km from the existing Dustlik metro station to Kuylik market, with eight stations. The second would extend this to Olmazor metro station, the third to Beruniy station and the fourth to Bodomzor. The final phase would complete the loop to Dustlik.