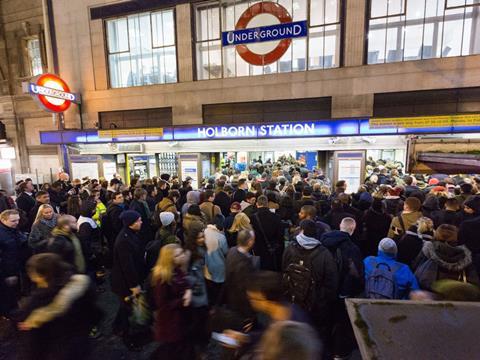 UK: Transport for London is undertaking public consultation until November 17 on proposals to increase capacity at Holborn station on London Underground's Central and Piccadilly lines.
Handling 63 million passengers a year, Holborn is currently the 11th-busiest station on the LU network, and TfL estimates that by 2031 demand will increase by 20% in the morning peak and 29% in the evening peak.
According to TfL, the proposed upgrade would increase the size of the station by 140%, including a new second entrance on Procter Street. Three new lifts would provide step-free access to both sets of platforms from the existing Kingsway entrance, which is to be expanded, and eight additional escalators would increase the total at the station to 15.
Below ground, 700 m of new tunnels would be dug to improve interchange between the Central and Piccadilly line platforms. Additional concourse space would be provided by using one of the platforms disused since the closure of the Piccadilly Line branch to Aldwych in 1994.
A new traction substation would be built for the planned increase in service frequency on the Central Line. TfL says that funding for the development of the Holborn upgrade 'and to commence construction' has been allocated in its business plan.