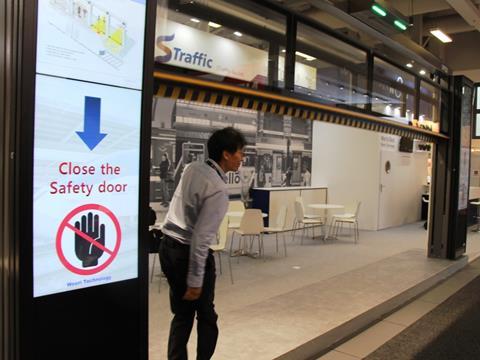 FRANCE: SNCF's Transilien business unit is to test vertically-rising platform edge gates from South Korean technology company sTraffic at Vanves-Malakoff station in southern Paris.
Under a contract awarded at the end of 2017, the gates are due to be installed by April 2019 for a one-year trial. sTraffic has set up a consortium with Bouygues Energies et Services to ensure delivery and ongoing maintenance. If the trial is successful, SNCF hopes to roll out the gates across suburban stations in the capital ahead of the 2024 Olympic Games.
Conventional sideways-sliding platform screen doors and half-height gates normally require a standard door spacing, limiting their application to metros with a largely homogenous rolling stock fleet and requiring the trains to stop in a very precise location. By contrast, the vertical gates have a much wider opening between narrow pillars, making them more suitable for use with a variety of vehicle types with different door spacings.
Originally developed by the Korea Transport Institute, the gates have a horizontal opening that can be variable up to 8 200 mm, although there are plans to develop a wider span. Each gate comprises two overlapping panes made from an aluminium frame and tempered glass panels. The operating mechanism comprises an electric screw actuator and chain-supported counterweight at each end of the gate; two actuators for adjacent openings can be accommodated within a 700 mm wide pillar. Control units for the gate mechanism are being supplied under subcontract by Woori Technology. The demonstrator version on show at InnoTrans incorporated information displays on the pillars that could also show advertisements.
To ensure safety during operation, the area between the gate and platform edge is monitored by cameras and motion sensors, while the lower edge of the gate is touch-sensitive. The counterweighted design also eliminates much of the risk of someone becoming trapped under a descending gate. Flashing lights and audible warnings indicate when the gate is activated. Full safety certification for the design will be available.
Two gates have been supplied for testing in Barcelona, while an evaluation is also underway on the Daegu metro. According to sTraffic, the South Korean government is keen to replace the earlier designs of platform screen doors by vertical gates to improve safety and facilitate the introduction of new rolling stock types.