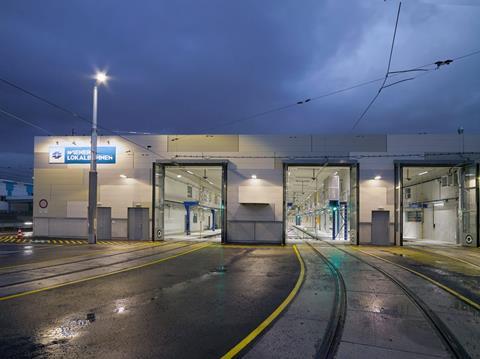 AUSTRIA: On March 21 light rail operator Wiener Lokalbahnen inaugurated a new depot at Inzersdorf south of Wien city centre.
Following 26 months of work, the 6 500 m² facility brings together more than 200 operations and maintenance staff. There are 1 720 m of depot and stabling tracks, including 1 000 m of covered track where cleaning and maintenance activities can be undertaken. These are augmented by a two-storey building with office and staff facilities.
The depot will be used for maintenance and storage of the light rail vehicles in use on the Badner Bahn. The current fleet consists of 24 Class 100 vehicles produced by SGP in 1979-93 and 14 Class 400 LRVs made by Bombardier in 2000-10. WLB is planning to purchase additional LRVs soon.
The old WLB depot at Wolfganggasse is to be closed on April 1 following a rerouting of the Badner Bahn.