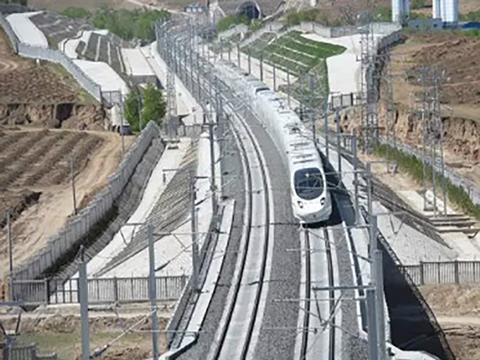 CHINA: Revenue services on the 126 km Hohhot – Ulanqab section of the future Hohhot – Zhangjiakou high speed line in Inner Mongolia began on August 3. Trial running had begun on June 29.
Construction of the 287 km Hohhot –Zhangjiakou line started in April 2014, and revenue services on the whole route are expected to start in March 2018. The alignment is designed for trains running at up to 250 km/h, and now offers a Hohhot – Ulanqab journey time of 39 min, down from 56 min on the older line which had a maximum operating speed of 160 km/h.
A 174 km line between Beijing Bei and Zhangjiakou is scheduled to be opened in 2019, completing a high speed corridor from Beijing to Hohhot which would cut journey times from more than 9 h to around 3 h.
A feature article on the Beijing – Zhangjiakou Intercity Railway appeared in the April 2017 issue of Railway Gazette International magazine, which subscribers can access in the digital archive.