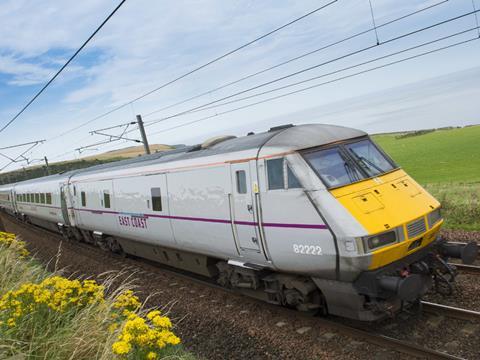 UK: The Department for Transport formally launched the competition for the next InterCity East Coast franchise on October 25, publishing documents setting out what potential bidders will need to consider when developing proposals for the operation of passenger services from London King's Cross to Leeds, Newcastle and Edinburgh.
'We want to see a revitalised East Coast railway, one that both rekindles the spirit of competition for customers on this great route to Scotland and competes with the West Coast on speed, quality and customer service', said Transport Secretary Patrick McLoughlin. 'We need a strong partner to ensure we successfully deliver the £240m programme of infrastructure investments on the route and the improvements in rolling stock that the multi-billion Intercity Express Programme will provide.'
DfT wishes to see 'genuinely creative bids', according to its franchise prospectus, providing 'tough competition' for other operators. Bids should include 'innovative timetables which build on the core train service requirement', and investment 'to transform the customer experience'. As well as existing services, bidders may be asked to run, or have the option to run, services to up to five additional destinations in Yorkshire, the northeast, the Midlands and the east of England.
Contact structure
Since November 2009 ICEC services have been operated on a temporary basis by East Coast Main Line Co Ltd, a subsidiary of Directly Operated Railways which is owned by DfT. In the period to March 31 2013 DOR made £620m in premium payments to DfT, but the prospectus says that the focus has been on stabilising operations and 'long-term, stable business planning has not been possible'.
Because of the legal structure under which ECML Co Ltd holds a service agreement rather than a conventional franchise, the winning bidder for the new franchise will buy ECML under a share sale agreement which DfT expects to have a value of less than £20m. The new franchise would then be awarded to ECML. A profit share and cap agreement would provide the franchisee with partial protection against revenue risk arising from wider economic factors.
The new franchise would run for eight or nine years, with an option for a further two years. Significant government investment is planned for the next six years, including rolling stock replacement, a £72m infrastructure upgrade at Peterborough and £20m of enhancements at Doncaster.
The new owner of ECML will take over its existing East Coast branding. If it continues to use this, it must pass the brand onto the next operator at the end of the new franchise 'at a fair market value.' Alternatively, the operator may rebrand, but would be responsible for all costs and must transfer the existing East Coast brand to its successor at no cost, and either sell its own brand to the successor at a fair market value or incur the costs of removing it.
Intercity East Coast franchising timetable

June 2012
Consultation on new franchise began.
October 2 2012
All refranchising halted following collapse of InterCity West Coast process.
March 2013
Prior Information Notice published.
October 25 2013
Publication of OJEU notice, prequalification questionnaire, prequalification process document, prospectus and passenger consultation documents.
January 2014
DfT to name prequalified bidders.
February 2014
Invitations to tender issued.
May 2014
Bids to be submitted.
February 2015
Franchise starts, and runs for eight or nine years with option for a further two years.