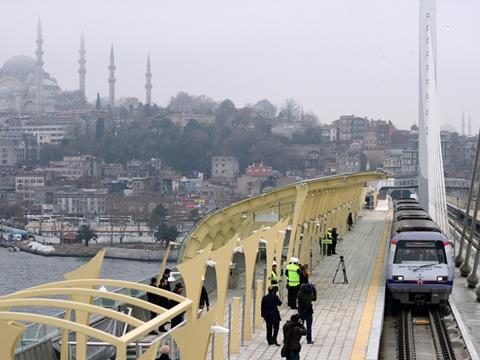 TURKEY: Istanbul Metropolitan Municipality has called tenders for 75 four-car trainsets to operate on the future Line M7 of the Istanbul metro.
The first tranche of deliveries would take place up to 42 months after the contract signing. Two trainsets are to be delivered 22 months after signing, with 34 more to be delivered at a rate of two per month. Operator İstanbul Ulaşım plans to continue test running 120 days after the last trains of the first tranche have been delivered.
The first two sets from the second tranche would be delivered 39 months after signature, with the last set delivered 58 months after contract signing, followed by 60 days of test running.
In February 2014 construction work began on the initial section of Line M7 between Mahmutbey and Mecidiyeköy. The full route from Mahmutbey to Kabataş is scheduled to open in 2017.
A feature article on urban rail in Turkey, including the Istanbul metro, appeared in the September 2014 issue of Metro Report International, available to subscribers in our digital archive.