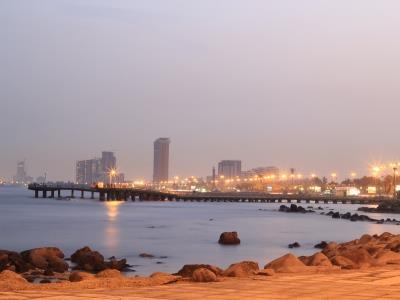 SAUDI ARABIA: The Council of Ministers approved a draft transport plan for Jeddah on March 11. The 45bn riyal plan includes a three-line light metro, as well as a network of buses and marine transport. Completion is scheduled within seven years.
Makkah Governor Prince Khaled Al Faisal said that 30% of the designs have been completed by the Transport Ministry, and the Makkah mayoralty would complete the rest. A company (owned by Jeddah Development & Urban Regeneration Company) will be established to implement the plan.
Three lines are planned. The 67 km Orange Line would run from Makkah Road to Obhur and have 22 stations. The Blue Line will be 24 km long with 17 stations. It will connect King Abdulaziz International Airport with Haramain railway station on the future Haramain High Speed line from Makkah to Madinah. Haramain Railway Station will also be served by the 17 km Green Line, which will run to the Corniche and have seven stations. Jeddah Mayor Hani Aburas said that 208 cars will be required for the three lines.
Approval of the transport plan follows similar plans for Riyadh and Makkah.