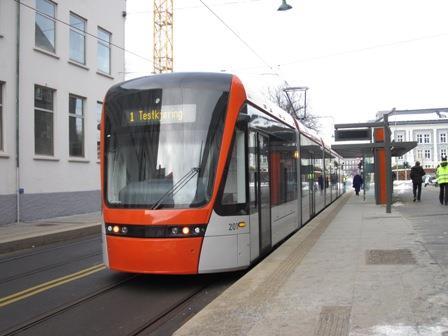 DENMARK: A framework agreement for the development of a tram line paralleling the busy Ring 3 ring road in western København was signed by the Transport Ministry, capital region and 11 local councils on June 29.
Planned for opening in 2020, the 28 km line would run from Lundtofte in the north to Ishøj station in the south, with 28 stops and a journey time of 44 min. The councils have agreed to contribute DKr2·2bn and the national government DKr1·5bn towards the estimated DKr3·75bn cost. Bus rapid transit was studied before a more expensive but high quality light rail option chosen for development.
'It bodes well for the future that so many municipalities can agree on such a large infrastructure project for the benefit of many people', said Transport Minister Hans Christian Schmidt. 'Light rail will boost the area along Ring 3 and provide a sound and future-oriented alternative to the car on a very busy stretch.'
The first line could soon be expanded, believes Karin Søjberg Holst, mayor of Gladsaxe and a long-term supporter of the project, as once it is open 'we will not be able to understand how we lived without it'.