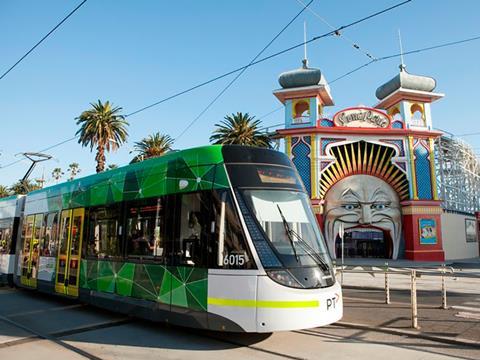 AUSTRALIA: The Victorian government has awarded incumbent Keolis Downer the next contract to operate the Yarra Trams network in Melbourne.
The contract announced on September 12 runs for seven years from November 30 2017 and covers the operation of around 5 000 services a day on the world's largest tram network, which has 250 km of double-track, 75% of which is shared with other vehicles, and more than 1 700 stops. There are 24 routes plus the City Circle, requiring around 410 trams in service at peak times.
The current contract gave the operator the right to exclusive negotiations for the next contract, ahead of any tendering, however the new deal will not include a similar clause.
The new contract includes:
the creation of more than 100 jobs, with an emphasis on engineering and trades-based infrastructure and rolling stock roles;
70 apprenticeships and traineeships, growing to approximately 120 by the end of the contract;
delivering the state of Victoria's investment in rolling stock enhancements and refurbishments, improving availability and reliability;
a programme to increase the environmental, social and economic contribution trams make to the city, including more community grants and A$1m/year of free advertising for community groups;
improving accessibility through the introduction of assisted boarding aids on low-floor trams at level access stops and the development of best practice design guide for new stops;
doubling annual track renewals to an average of 10 km/year;
improved digital information;
more frontline employees providing passenger assistance.
The Keolis Downer joint venture of the French transport group and Australian infrastructure company has operated the network since 2009. It also operates the Gold Coast tram line, more than 1 000 buses in Western Australia, South Australia and Queensland, and Newcastle's integrated multimodal network.
'We are proud of the strong partnership we have built with the Victorian government over the last eight years and all that we have delivered for our passengers and the city', said Keolis Downer Victoria CEO Nicolas Gindt when the new Melbourne contract was announced. 'We have an exciting vision for Melbourne's tram network and our focus will remain on improving passenger satisfaction by delivering safe, reliable, clean and easy-to-use services every day.'