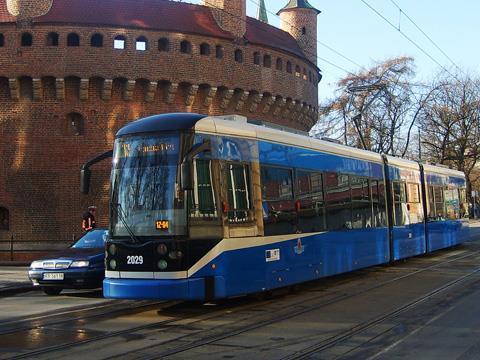 POLAND: Kraków transport operator MPK has placed an order for a further 24 Bombardier Flexity Classic trams to be delivered from March 2012 to 2013.
A partnership of Bombardier and Vossloh Kiepe was the sole bidder for the €58·7m contract signed on July 22. Bombardier's share is worth €40m and includes assembly at Bautzen in Germany. Vossloh Kiepe will provide the electrical equipment.
Half the cost is being met by the EU through its contributions to an urban transport modernisation project which includes track upgrading and construction of an express light rail line from Rondo Grzegórzeckie to Lipska.
The four-section NGT8 cars will be 32 m long, which MPK says will make them the longest low-floor cars in Poland. They will be 2 400 mm wide, with five double-door and two single-door entrances to assist rapid passenger flow. They will be air-conditioned and have space for 229 passengers, with multi-purpose areas for pushchairs and wheelchairs.
The contract is the fourth that MPK has placed with Bombardier, which supplied a total of 50 NGT6 trams to Kraków in 2000-08. Bombardier has also supplied Flexity trams to Gdansk, ?odz and Kraków, and worldwide there are more than 1 500 Flexity cars in service. A total of 2 800 Bombardier trams and light rail vehicles are now in traffic or on order worldwide.