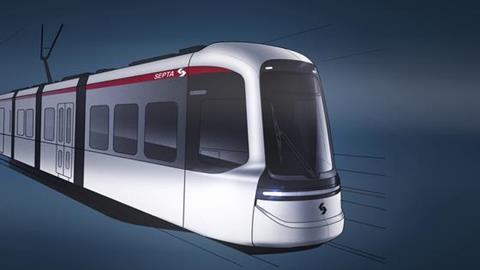 USA: Southeastern Pennsylvania Transportation Authority has formally awarded Alstom a $718·2m contract to supply 130 fully-customised low-floor trams to replace the Philadelphia trolley fleet with modern and more accessible vehicles.
The tram order is a key element in SEPTA's Trolley Modernisation programme which aims to 'transform the nation's largest trolley network into an accessible, fast, and easy-to-use system'. Alstom was named preferred bidder in February. There are options for SEPTA to order 30 more trams.
The five-section trams from Alstom's Citadis family will be purpose-designed to cope with the network's unusual 1 581 mm gauge and 10 m radius curves. Alstom said they would offer a 20% reduction in energy consumption, with service-proven traction technology, LED lighting and sensor-based air-conditioning
They will be 100% low floor, with wide aisles for easy passenger flow and accessibility, with ramps at all doors.
The 'metro-style' seating will provided a 'flexible' interior able to accommodate larger items while adjusting to capacity, demand and need. There will be audio and visual information systems, and designated spaces for wheelchairs, pushchairs and bicycles.
The trams will be manufactured at Alstom's Hornell plant in New York state to meet Buy America requirements, with the propulsion systems supplied from its site in West Mifflin, Pennsylvania.
'The new Citadis streetcars will bring more efficient accessible and equitable service to the people of Philadelphia's metropolis, as they will replace the existing SEPTA fleet that dates from the 1980s', said Michael Keroullé, President of Alstom Americas, on June 1. 'We are thrilled with the opportunity to serve over 80 000 daily riders with a more accessible, comfortable, and modern experience.'