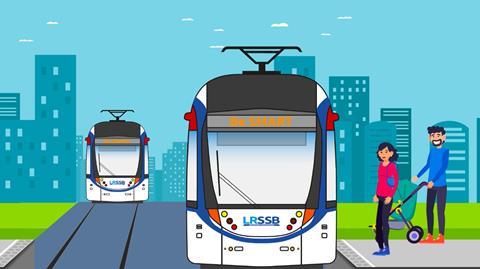 UK: The Light Rail Safety & Standards Board has launched a series of 'be smart around trams' animated videos, commissioned from Creative Star to provide safety tips for passengers.
The videos can be used by operators to complement their own safety campaigns on social media channels and tram stop information displays, while a full-length version with all of the videos in sequence is designed to be used in schools and at community events.
'Trams are already one of the safest forms of public transport, but we can never be complacent', said LRSSB Chief Executive Carl Williams on April 20. 'These videos have been produced in response to feedback from sector safety experts concerned about the actions of a small minority of people who sometimes put themselves and others at risk.
'In most cases these actions are unintentional, including crossing the tracks while wearing headphones or standing too close to the edge of the platform, and by raising awareness of these common behaviours we hope to further reduce the risk of more serious incidents which are, fortunately, extremely rare.'
The videos also highlight the importance of ensuring bags and other loose items are clear of closing doors, and the need to secure pushchairs and wheelchairs in designated areas.