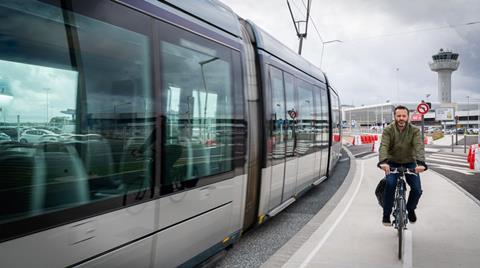 FRANCE: A 5 km branch of Bordeaux tram Route A from Quatre Chemins to Bordeaux-Mérignac Airport was opened for revenue service at noon on April 29.
The extension is single track with passing points at the five stops. Services operate every 10 min, offering a 35 min journey time from the airport to the city centre. Ridership is predicted at around 6 500 passengers/day.
The project also included the development of a parallel cycling route, while a 120-space park-and-ride facility is due to open at the Caroline Aigle stop later this year.
Legal powers for the project were granted in March 2019 and construction took four years. The €95m cost was largely funded by Bordeaux Métropole, aided by a €8·3m contribution from the national government.
The opening takes the Bordeaux tram network to a total length of 82 km.