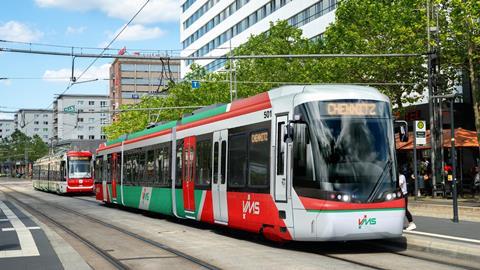 GERMANY: Mittelsachsen transport authority VMS has awarded Stadler a contract to supply and maintain 19 Citylink tram-trains for use around Chemnitz, with options for 27 more.
The vehicles will be similar to Chemitz's first generation electro-diesel Citylink tram-trains supplied from 2015 by Vossloh's light rail business, which was subsequently acquired by Stadler, but will be electric-only. They will use 600/750 V DC in the city area and 15 kV 16·7 Hz elsewhere, with a 900 kW rating and a maximum speed of 100 km/h.
The three-section LRVs will be 37·5 m long. They will have capacity for 236 passengers, including 88 seated, and four areas for pushchairs, wheelchairs and bicycles. There will be four double doors per side, with level boarding from 380 mm and 550 mm high platforms.
The train-trains are scheduled to be delivered from mid-2025 for passenger operation from June 2026. They will be used on services from Chemnitz to Mittweida, to Glauchau via Stollberg and Oelsnitz, to Burgstädt and to Hainichen, once these routes are fully electrified. They will also be used on a planned future route to Limbach-Oberfrohna.
VMS Managing Director Mathias Korda said the vehicles would be more cost-effective and environmentally friendly than the first generation Citylinks, which will be dedicated to the non-electrified routes.
The overall costs of the vehicle procurement confirmed on March 31 is €234·5m, including maintenance and the construction of a depot on Sachsen-Allee. This is being financed from the VMS's own resources, loans and the Land of Sachsen. Planning for the depot will begin this year, with opening scheduled by 2026.