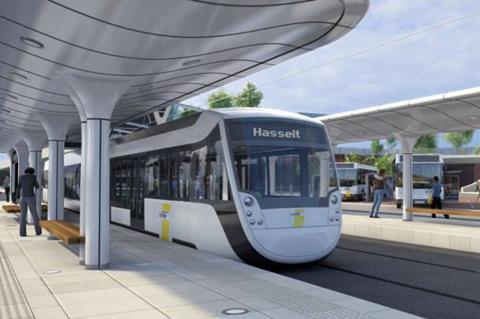 EUROPE: After many years of discussion and planning, the government of the Belgian region of Vlaanderen has decided not to go ahead with plans to for a tram-train service running from Hasselt across the Dutch border to Maastricht.
The route would have been around 30 km long, with 27 km in Belgium, and would have offered a journey time of 30 min compared to 70 min by bus.
The line would partly use the alignment of the disused railway Line 20 from Bilzen to Lanaken which closed in 1994. The Dutch section was later rehabilitated for freight use at a cost of €32m, but not used, and has since closed again.
Tram-train services would have ended near the town hall in the centre of Maastricht because the Wilhelmina Bridge over the River Maas to the railway station could not carry the weight of the trams, however the Belgian side of the project was unhappy with this approach.
An electric bus service is now planned to replace the existing diesel bus routes.
Considerable sums of money have already been spent on consultancy and preparatory works, and the following the Belgian side's unilateral decision not to go ahead, the Dutch authorities are reported to be seeking reimbursement of €23m.