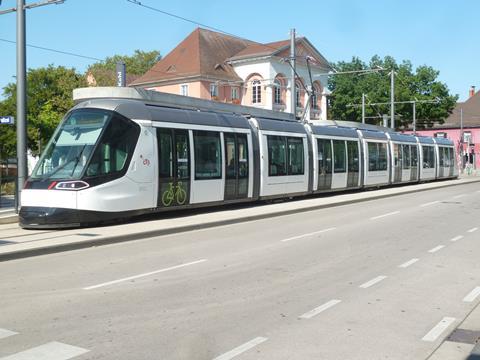 FRANCE: City transport operator CTS and municipality Eurométropole de Strasbourg have awarded Alstom a framework contract to supply a minimum of 22 Citadis trams over eight years, the manufacturer announced on April 19.
The firm order is for an initial 12 Citadis low-floor trams, with at least 10 more to be delivered by 2031. The value of the order for 22 vehicles is a maximum of €250m.
The cars are expected to run across the existing network and on various planned extensions. A western extension of Line F is being developed from Comtes to Koenigshoffen, scheduled to open in 2027, while the Tram Nord proposal would link the northern suburbs to the city centre.
The trams would be designed and assembled at Alstom's La Rochelle factory, with key components coming from other sites in France. They will be capable of running on cross-border routes into Germany and will comply with BOStrab technical standards.
Reduced energy consumption
The trams would be 45 m long and 2 400 mm wide, with a capacity of 286 passengers. Each tram would have eight 1·3 m wide double doors on each side, including at each car end, to accelerate boarding and alighting.
Each tram will have air-conditioning, dynamic passenger information, and a video surveillance system. They are to be designed with wider seats and dedicated areas for wheelchair users and pushchairs. Door-opening buttons are to be fitted at a height suitable for persons with reduced mobility. Glass-panelled doors will enhance the feeling of comfort and safety for passengers, Alstom says.
The trams are expected to reduce energy consumption by at least 20% compared to the current fleet, thanks to an updated traction system, efficient management of the HVAC equipment and 100% LED lighting. The trams are also expected to need 30% less maintenance downtime during their planned 30 years of service life. This is to be achieved by a streamlining the variety of spare parts needed, improving the access to key components and using sensors to facilitate remote condition monitoring.
The delivery of the first vehicle is planned for March 2025 and the cars are expected to enter service by the end of that year.
CTS currently operates a total of 107 trams, supplied by Adtranz Eurotram and Alstom.