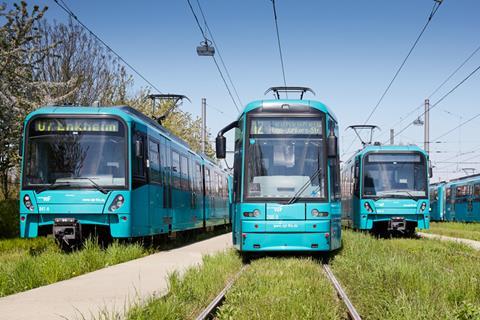 GERMANY: A project to investigate the possibility of introducing a freight tram service in Frankfurt has been awarded funding by the Land of Hessen.
The project is being undertaken by Frankfurt University of Applied Sciences, in co-operation with city transport operator VGF and parcel delivery service Hermes. The participants estimate that a cargo tram could reduce CO2 emissions by more than a half when compared to delivery vans, as well as delivering cost savings.
However, a number of technical, organisational and logistics difficulties have to be overcome. The Land previously provided €210 000 for initial tests, which found that regular passenger trams were not suitable for freight transport. The latest €136 000 grant will be used to explore options for converting vehicles for dedicated freight use and to develop operating concepts.
'Climate-friendly logistics is on of the most important questions for the future', said Land Minister of Economics, Energy, Transport & Housing Tarek Al-Wazir on March 24. 'Shifting freight onto rail is not only interesting for long-distance transport. We have to develop new concepts for the last mile.'