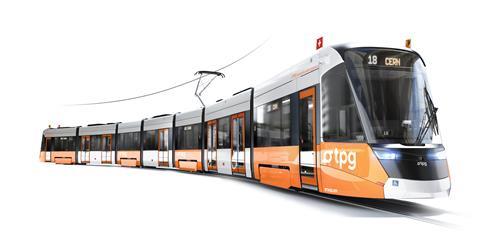 SWITZERLAND: Genève public transport operator TPG has selected Stadler to supply trams to replace older vehicles and support planned expansion of the network
Tenders were called in August last year, and the formal award of the contract announced on July 7 is subject a standstill period.
There will be an initial firm order for 38 trams for delivery from November 2024 and entry into service in Q1 2025, with options for up to 25 more.
The Stadler Tramlink trams will be 44 m long and 2 300 mm wide with a capacity of 250 passengers, and will be able to operate on all routes.
TPG wants to replace the Duewag trams on Route 12 after around 40 years of service, and is planning extensions to Grand-Saconnex and across the border to Ferney-Voltaire in France in the next few years, with longer term plans to serve the Plan-les-Ouates industrial zone on the Swiss side of the border, plus Saint-Julien-en-Genevois and Annemasse-Glières in France.
The order also supports Canton Genève's decarbonisation policy, which envisages a 100% electric public transport fleet using renewable energy by 2030.