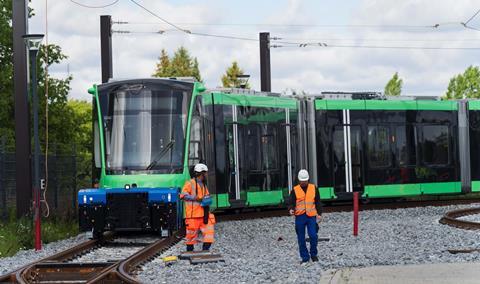 DENMARK: Siemens Mobility has delivered the first of 29 trams for the Hovedstadens Letbane orbital light rail line which is under construction in København.
The tram arrived at the depot in Glostrup on the night of August 23, following testing at the Wildenrath centre in Germany and delivery by lorry via the Puttgarden to Rødby ferry.
It will now undergo testing on a short section of track at the depot, before trial running begins on the main route in spring 2024.
Avenio tram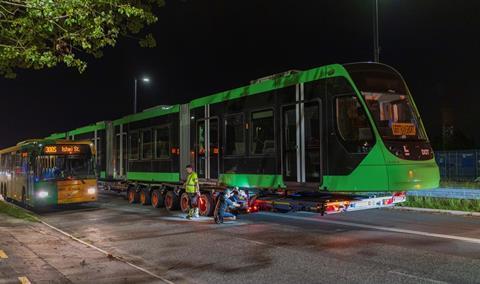 The four-section tram from Siemens Mobiity's Avenio family is 36·9 m long, 2 650 mm wide and weighs 48·6 tonnes. It has a maximum speed of 70 km/h, and will have an average operating speed of 30 km/h.
The interior has 64 seats and a total capacity of 260 passengers. There is step-free boarding and level-access throughout, with four areas for bicycles, pushchairs and wheelchairs.
Opening in 2025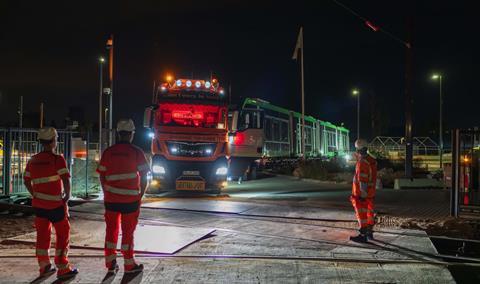 The 28 km Hovedstadens Letbane with 29 stops will broadly follow the Ring 3 trunk road around the western edge of the city between Ishøj and Lundtofte to the north of Lyngby.
Services will run every 5 min during the day and every 10 min in the evening and on Sundays and public holidays. The end-to-end journey time will be under an hour, including at the busiest times.
Passenger services are expected to begin in 2025, and ridership is predicted to reach 14·7 million passengers/year in 2030.