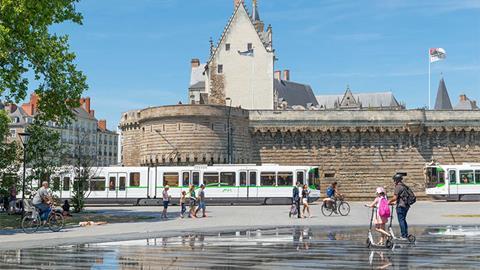 FRANCE: Nantes Métropole has awarded Alstom a contract to supply 49 Citadis trams worth almost €200m.
These are intended to replace the 46 Alstom TFS1 vehicles dating from the opening of France's first modern tramway in 1985, as well as to increase capacity. The three-route network now covers 44 km, with municipal operator Semitan also operating 33 Adtranz/Bombardier Incentro trams and 12 CAF Urbos 3 low-floor vehicles.
Before tenders were called for the latest generation of trams, Semitan undertook public consultation and worked with consultancy RCP Design Global to develop an outline internal and external design concept, specifying that the city wanted a vehicle which is 'spacious, ergonomic, bright and open to the city'. However the new Alstom trams will have a different appearance to impressions which were released following the consultation.
Seven of Alstom's 13 sites in France will be involved in design and manufacturing of the trams: La Rochelle (design, assembly and logistical support), Le Creusot (bogies), Ornans (traction motors), Valenciennes (interior layout), Aix-en-Provence (safety and driver assistance systems), Saint-Ouen (after-sales service), and Villeurbanne (on-board electronics).
'The city of Nantes, which initiated the renewal of the modern tram in the 1980s, has made its mark on the history of urban transport in France', said Jean-Baptiste Eyméoud, Senior Vice-President of Alstom France, when the order was confirmed on October 9. 'We are extremely proud that the city has once again trusted us to equip its network with our state-of-the-art Citadis trams.'
More than 2 600 Citadis trams have been now sold to over 50 cities in 20 countries, including 23 cities in France.