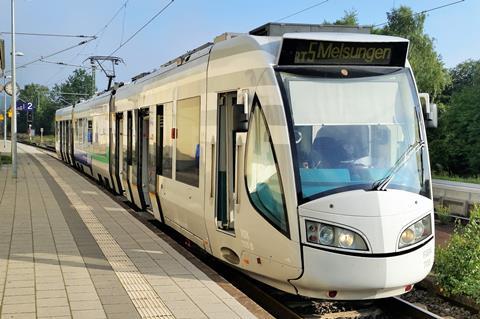 GERMANY: Following an international tender, Nordhessen transport authority NVV has awarded incumbent RTG the next contract to operate RegioTram tram-train services on three routes around Kassel.
RTG is a joint venture of Kassel transport operator KVG and Hessische Landesbahn and has operated the RegioTram services since 2013.
The next operating contract runs for 10 years from December 2023. It covers services totalling 2·3 million km/year which carried around 7 million passengers in 2019. The current service pattern will be retained. Spare vehicles and crew will be positioned at Kassel Hbf in order to react flexibly to any disruption.
NVV is currently planning to add further stops on the RegioTram network, including Melsungen-Schwarzenberg and Melsungen-Süd on route RT5.
'RegioTram is a success story', said NVV Managing Director Steffen Müller on July 26. 'Our customers appreciate the direct connection from Kassel city centre to the surrounding area. This is proven by the number of passengers, which has more than tripled since the RegioTram began. We are pleased that with RTG we will have a reliable partner at our side for the next 10 years to continue this success story.'