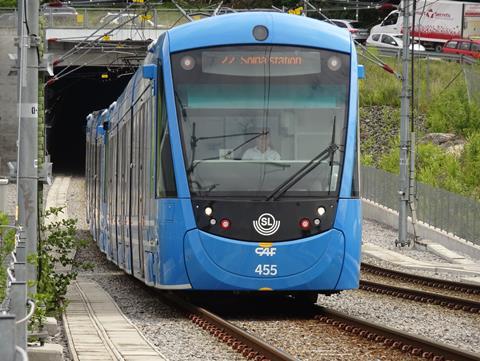 SWEDEN: Storstockholms Lokaltrafik has awarded CAF a contract to supply a further 10 Type A35 trams for the capital's expanding light rail network.
The order announced on June 24 has been placed under a framework agreement signed in late 2010 which included a firm order for 15 trams with options for up to 121 more. The latest option takes the total number of cars ordered to 52, comprising 43 of the three-section A35s and nine four-section A36s used on the Lidingöbanan.
All are part of CAF's Urbos AXL family, with adaptions for Scandinavian weather conditions. The 30 m bidirectional low-floor A35s have a capacity of 221 passengers.
Region Stockholm is buying 20 A35s to operate the 8 km Kistagren branch of the orbital Tvärbanan, which is due to open between Ulvsunda and Bromma Airport by the end of this year and be extended to Kista and Helenelund by 2023. The first of a batch of 10 cars ordered in 2017 was delivered to Stockholm in October 2019, and the second build will be required by the time the extension is completed.