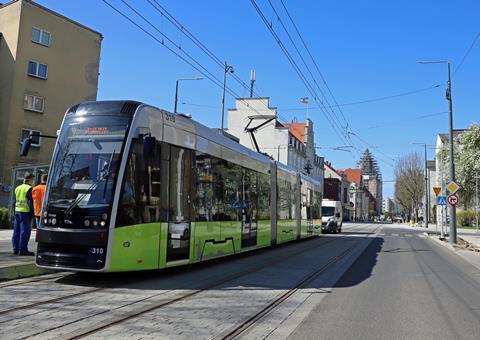 POLAND: Testing running has started on the 12·2 km tram network in Gorzów Wielkopolski, which has been closed since October 1 2017 to enable an extensive modernisation to be undertaken.
The 225m złoty modernisation programme is being supported from the national budget (160m złoty) and the European Union (37·5m złoty).
The first section to be completed is the 9·5 km east-west corridor from Wieprzyce to Katedra and Silwana, which is scheduled to reopen for revenue service on July 2.
The next phase of the project will cover the 2·7 km route from Katedra to Piaski. This is to be modernised over 18 months by a consortium led by ZUE at cost of 69m złoty.
In addition to the infrastructure works, city transport operator MZK is refreshing its rolling stock fleet. In September 2017 it ordered 15 bidirectional Pesa Twist 100% low-floor trams, which are 24 m long and 2 400 mm wide, for 115·2m złoty, under a contract which includes an option for six more. The EU's Infrastructure & Environment Operational Programme is funding 75% of the cost.
The operator has also begun to refurbish 18 second-hand trams which it acquired from Kassel in the 1990s. Nine cars have so far been refreshed with new interiors and a green livery.