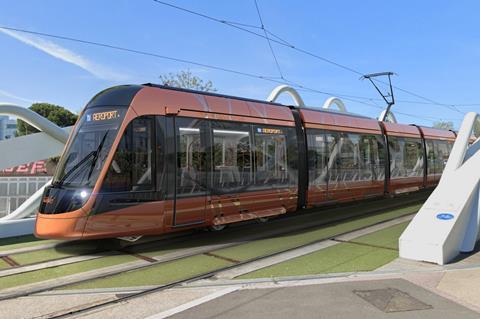 FRANCE: The transport authorities in Toulouse, Brest and Besançon have jointly awarded Alstom an eight-year framework agreement for the supply of trams, with firm orders for an initial 22 vehicles.
The three cities opted for a joint contract with the aim of optimising costs.
Joint tram order
City
Number of trams
Delivery from
Service from
Impression
Besançon
5
March 2025
September 2025

Brest
8
July 2025
January 2026

Toulouse
9
January 2026
September 2026
Announcing the framework agreement on April 27, Alstom said it would supply trams from its modular Citadis family, enabling it to 'retain the iconic features and design elements' of the Citadis trams currently in service in Toulouse and Brest.
The trams will be 32·5 m long and 2 400 mm wide with four 1 300 mm wide double doors and two single doors per side. They will have a capacity of 201 passengers, with areas for wheelchair users and pushchairs, and will be fitted with CCTV, air-conditioning and a dynamic passenger information system.
Alstom said energy consumption will be at least 25% lower than current trams, with modern motors, efficient climate management and 100% LED lighting.
The design aims to reduce maintenance operations by 18% over a 30 year operational life, with fewer spare part references, improved access to components and sensors for remote diagnosis.
Nine Alstom sites in France will be involved in producing the trams, with La Rochelle responsible for assembly, Saint-Ouen the design, Le Creusot the bogies, Ornans the motors, Villeurbanne the electronics and cybersecurity, Aix-en-Provence for the tachometer units and Sens, Gennevilliers and Saint-Florentin the brake discs and linings.