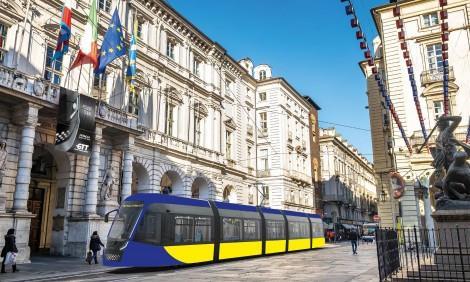 ITALY: 'This is great news that bring us into the future', said GTT Chief Executive Giovanni Foti, announcing that the Torino city transport operator had finalised a framework agreement for Hitachi Rail to supply up to 70 trams, with a firm order for an initial 30 vehicles.
Hitachi Rail had beaten four other bidders to be named preferred bidder last September.
The contract signed on May 15 is split into two tranches. The first covers the supply of 30 vehicles at a cost of €63·4m, and is being entirely funded by the Ministry of Infrastructure & Transport as part of the 'rail cure' programme to enhance transport in large cities. The city and GTT have jointly applied to the ministry for financing for the remaining 40 trams.
The vehicles will be produced at Hitachi Rail's Napoli, Pistoia and Reggio Calabria sites for delivery from late 2021. The manufacturer will provide a 4½ year warranty.
The low-floor trams will be an evolution of the Sirio family, offering 'a synthesis of new technologies and ever higher performances in terms of safety, sustainability, comfort and travel experience', explained Hitachi Rail Chairman Maurizio Manfellotto.
The 28 m cars will be shorter than the GTT's current trams, but a reconfigured interior will provide a greater passenger capacity and two areas for wheelchair users. They will be more comfortable, with air-conditioning, large windows and transparent areas at the sides of the roof to provide more light inside and more visibility outside.
The styling and the interior has been designed by Giugiaro Architettura, with a yellow and blue livery matching the city's colours, which is also consistent with GTT's bus fleet.
Mayor Chiara Appendino said public transport was a priority for both the present and the future of Torino. Placing the order was 'an important sign of progress and vision of the future for our whole community in the time of emergency that we are living in.'
Finalisation of the order followed four years of hard work, the Mayor said. It would 'relaunch this fundamental service' to provide 'ever safer and more sustainable' transport.