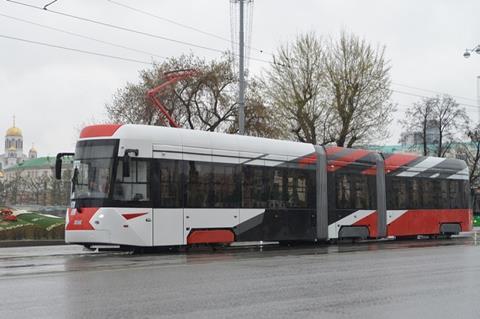 RUSSIA: Uraltransmash has begin trials with its Type 71-418 tram design in Yekaterinburg.
The Type 71-418 was unveiled at the INNOPROM exhibition last year, and has been entirely developed and manufactured in Russia.
The three-section 100% low-floor vehicle is 27·8 m long with a capacity of 320 passengers. It is equipped with a retractable ramp and area for wheelchair users and meets all current Russian accessibility laws.
The interior is fully air-conditioned, and equipped with CCTV as well as a GPS and Glonass-based passenger information system.
'The tram was extensively tested on test tracks in the factory, but current trials in an urban context will show how it acts in the real environment', said Andrei Makarov, Deputy General Director for non-military products at Uraltransmash.