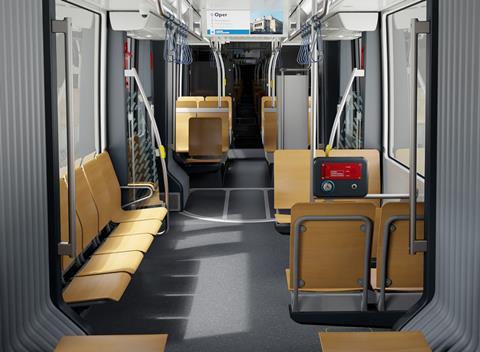 AUSTRIA: Wiener Lokalbahnen has unveiled the interior design for the 18 TW500 bidirectional low-floor light rail vehicles it has ordered from Bombardier Transportation for use on the 27 km Badner Bahn interurban line under a 2018 contract with options for up to 16 more.
Developed by Bombardier in partnership with industrial design agency Moodley, the interiors are intended to meet the needs of different types of passengers on the route, including wheelchair users and these with pushchairs.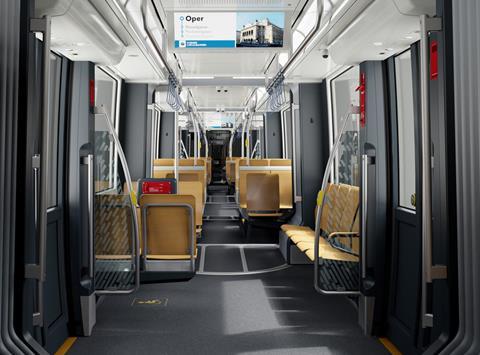 The bidirectional LRVs will be almost 28 m long with a capacity of 160 passengers. There will be a folding access ramp and multi-purpose areas with space for up to two wheelchairs or pushchairs, twice the capacity of the current TW400 LRVs. These areas will be equipped with an intercom for emergency communication with the driver, as well as stop request button, USB charging sockets and a belt.
Passenger facilities on the air-conditioned LRVs will include wi-fi, power sockets and a modern passenger information system.
Sustainability features will include regenerative braking, LED lighting and double-glazed windows for provide heat retention in winter and protection against summer sun.
The first of the TW500 vehicles is due to be delivered from Bombardier's Wien plant in the first quarter of 2021, and they will gradually replace WLB's older high-floor LRVs from the second half of 2021. All will be in service in 2023, supporting plans to increase services to run every 7½ min.
The manufacturer will undertake repairs under warranty in the WLB workshops at Inzersdorf, which opened in 2018.