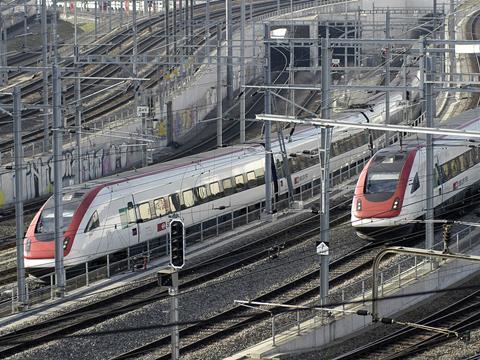 SWITZERLAND: Negotiations for a national jointly operated long-distance passenger traffic concession with services run by SBB, BLS and SOB collapsed on February 16. Discussions had been underway since autumn last year for the 'multi-railway' proposal.
SBB issued a statement regretting the failure of the talks and noted that BLS had decided to prepare a separate proposal for a concession. SBB plans to submit its own plan for the concession to the Federal Office of Transport but it will remain in discussion with SOB, at least for the moment.
BLS regretted that there was 'no positive outcome' to the joint discussions and confirmed that it was now 'in a competitive situation'. It envisages operating 'certain long-distance routes in its market sector' with 'additional and more attractive' services supported by expansion of Regional Express routes, and will seek to agree the proposals with the cantons which provide financial support for regional trains.
SBB said that the joint concession would have achieved savings of up to SFr30m a year from the federal and cantonal budget. It believed that the BLS proposal, with which it was only broadly familiar, would add SFr20m to SFr30m to the annual cost of operating long-distance trains, pointing out that additional rolling stock would be needed and that new arrangements would be required for maintenance, operations and employment. Adoption of the BLS proposal would affect SBB's ability to meet financial targets set by the federal government, with profit reduced by up to SFr100m a year, it said. It would also confer unfair advantages to the cantons that owned the BLS, SBB believed.
The current concession giving SBB rights to run long-distance passenger trains in Switzerland was awarded in December 2007 and expires at the end of this year; a new concession needs to be in place by December 10.
BLS ran its own long-distance passenger trains until December 2004, when it gave them up in exchange for taking over operation of S-Bahn routes in Bern. From the December 2016 timetable BLS began running regional cross-border services between Brig and Domodossola after SBB declined to bid for the Piemonte operating contract.