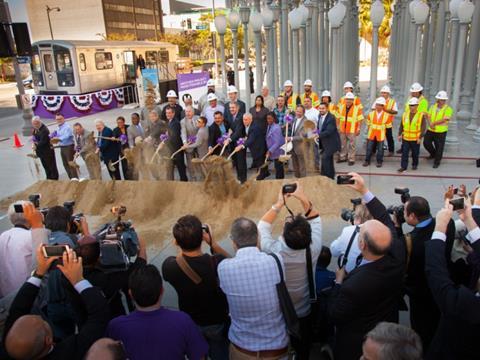 USA: A groundbreaking ceremony for the metro Purple Line extension took place in the Mid-Wilshire district of Los Angeles on November 7.
The 6·3 km first phase will extend the line west from Wilshire/Western along Wilshire Boulevard to La Cienega Boulevard, with intermediate stations at La Brea and Fairfax. The underground route is being built by a joint venture of Skanska, Traylor and Shea.
'When it comes to infrastructure, LA is on the move. We are right now investing $36bn in our transportation infrastructure to ease congestion and create thousands of jobs', said Mayor Eric Garcetti. 'In the car capital of the world, we are looking to reduce traffic and cut air pollution by giving people car-free options to get to work and play.'
Los Angeles County Metropolitan Transportation Authority estimates that ridership on Section 1 would be 20 000 passengers per day once it opens in 2023.
The construction cost of $2·82bn is being met through local and federal funding. Funding through Measure R, a 0·5% sales tax approved by voters in 2008, is being augmented by $1·25bn from the Federal Transit Administration's Capital Investment Grant programme and $856m through the Transportation Infrastructure Finance & Innovation Act. Other federal funds are contributing $12·2m.
According to California Senator Dianne Feinstein, future phases will require an estimated $3·5bn. Section 2 would extend the route by 4·2 km to Century City with an intermediate station at Wilshire/Rodeo in 2026. The 4·7 km Section 3, due for completion in 2035, would bring the line to Westwood.
Ridership on the Purple Line is expected to increase by 62 000 passenger-journeys per weekday by 2040, when the full extension is open. Services would run every 4 min during the peaks and every 10 min off-peak.