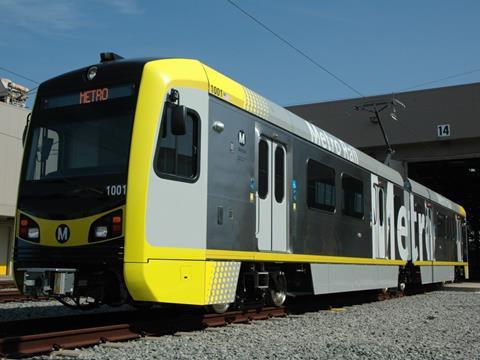 USA: Los Angeles County Metropolitan Transportation Authority published a draft expenditure plan on March 18 outlining capital projects for the next 40 years. These would be funded with revenues generated through a tax increase that could be put to a vote in November.
Following public feedback, Metro's board of directors is due to decide on the final plan on June 23, and will decide whether to put the tax increase to a ballot. Part of the funds would be channelled to cities in the region. As well as metro, light rail and bus projects, the plan covers commuter rail, and cycling and pedestrian infrastructure.
The following projects in the draft plan are to be completed in the first 15 years:
Completion of the Purple Line metro extension to Westwood a decade earlier than currently planned;
Construction of an interchange serving the Crenshaw/LAX light rail line and the planned peoplemover to Los Angeles International Airport;
Track improvements on the Crenshaw/LAX Line;
An extension of the light rail Gold Line from Azusa to Claremont;
Construction of a light rail line between Artesia and the Green Line in South Gate, with a second phase extending it to Union Station in the 2030s;
A rail or bus rapid transit route along Van Nuys Boulevard;
Grade separations and other work on the Orange Line bus route in preparation for its eventual conversion to light rail;
An underground rail line between the Orange and Purple lines, planned as the second phase of a bus and rail project across the Sepulveda Pass.
Projects planned for the second 15 years include an extension of the Green light rail line to Torrance and an extension of the Gold metro line to South El Monte or Whittier. The final 10 years could see a northern extension of the Crenshaw Line to and Hollywood and an extension of the Green Line to Norwalk.
'As LA Metro plans for future growth and transportation needs, it is imperative that we look at all mechanisms at our disposal to ensure the region's mobility needs are met', said Metro CEO Phillip Washington. 'Working with our community stakeholders, this expenditure plan brings us a step closer in defining what projects are needed and where the funding could come from to complete those projects.'
The potential ballot measure would propose a 0·5 percentage point increase in the county sales tax for 40 years and the extension of the existing Measure R for an additional 18 years. Metro estimates that this would raise more than $120bn in revenue. The report looks at the 2018-57 period, but also includes 45- and 50-year scenarios.