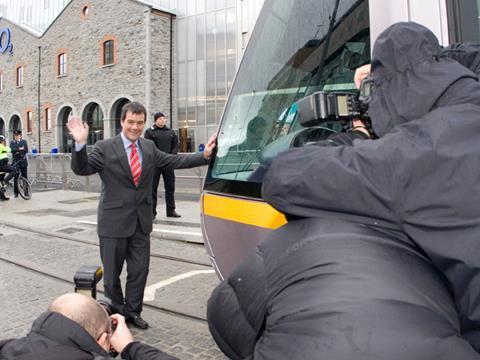 IRELAND: Transport Minister Noel Dempsey officially opened a 1·5 km extension of the Luas tram Red Line from Busáras to The Point on December 8, the first addition since the line opened in 2004. Free travel was offered in the Docklands zone for the rest of the day.

That evening Luas carried 'a huge proportion' of the patrons attending a Lilly Allen concert in the O2 entertainment venue, according to Michael Sheedy, RPA's Director of Light Rail. Revenue services started at 05.30 the next day.

The €90m extension serves the Docklands area, which already houses the city's financial services sector and is being developed as a commercial, retail and residential centre. With stops at George's Dock, Mayor Square, Spencer Dock and The Point, the extension is expected to add 1·8 million passenger journeys per year to Luas.

Trams will operate at 6½ min intervals in the peaks and 8 min at other times. Total journey time from Tallaght to The Point is 52 min. Two out of every three trams from Tallaght will go to The Point with the third running to Connolly. During peaks additional trams will run between Heuston and Connolly.

The route crosses the Spencer Dock Bridge, which in September won the Best Structural Design prize at the LEAF Awards 2009 in Berlin.

'Docklands is one of the most exciting and vibrant parts of the city' said Dempsey. 'This new Luas line enhances the accessibility of the Docklands area and helps to integrate it with the wider Dublin region.'

Work is progressing on further Luas extensions. The Sandyford – Cherrywood section of the Green Line is scheduled to open in August 2010, and the Red Line extension to Citywest should enter service in 2011.