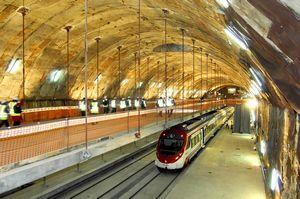 SPAIN: Development Minister Magdalena Álvarez has presented the cabinet with an €5bn investment programme for the Madrid suburban network in 2008-15, which would see 115 km of new routes constructed and capacity increased by quadrupling a further 66 km. The programme envisages the construction of five new interchanges and 24 stations, as well as the refurbishment of 55 existing stations. By 2015, all stations should be accessible to passengers with mobility impairments.
At present, RENFE's 363 km suburban network serves 5·4 million inhabitants across 36 municipalities, 89% of the population of the Madrid region. The aim is to extend service to a further nine municipalities by 2015, taking the length of the network to 478 km.
Meanwhile, one of the smaller of RENFE's 12 suburban operations gained a new station on November 27, when services between Cádiz and Jerez de la Frontera began calling at Valdelagrana. Equipped with two 160 m platforms, the new station has been built as part of a €68m package of works on the 10·7 km El Puerto de Santa María section of the Sevilla – Cádiz route upgrade (RG 8.08 p477).