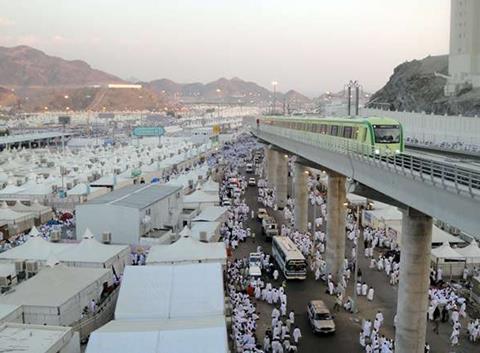 SAUDI ARABIA: The Development Commission of Makkah & Mashaaer has invited applications to prequalify for the railway systems contract for the 25·5bn riyal Phase 1 of the Makkah metro, which is expected to open in 2019.
The scope of the design and build contract includes track, power supplies, 1·5 kV DC bottom-contract third rail electrification, CBTC specified to Grade Of Automation Level 4 (unattended driverless operation), telecoms, station and depot fit-out, the control centre, fare collection system, platform screen doors and overall system integration.
The contract could be extended to include Phases 2 and 3 of the metro development programme, which are planned to take the network to 123·5 km and 66 stations within 10 years.
The deadline for applications is May 26. The request for proposals is planned for July, with the contract to be awarded in the second quarter of 2015. Revenue services on Line B would start 45 months after the notice to proceed, with Line C in 51 months.
The railway systems contract is designated contract 3; contract 1 will cover civil works for the underground sections of the metro, and contract 2 the elevated sections plus the depot. Contract 4 will cover rolling stock and depot equipment. Three stations are to be built under separate contracts as part of wider urban development works. There will also be separate contracts covering safety assessment and verification. The model to be used for operation and maintenance of the network is still to be finalised.
The metro forms part of the 62bn riyal Makkah Public Transport Programme, which will includes integrated bus services and is to be funded entirely from public sources
Makkah Public Transport Programme metro construction phases

Phase
Route
Length, km
Stations
Duration (years)
1
Section 1
Line B
(11·9 km and 7 stations)
24·8
12
3
Line C northwest
(12·8 km and 5 stations)
Section 2
Line C southeast
20·3
10
2
Line A
27·7
18
5
3
Line D
35·2
19
2
Line C extension
15·5
7
Total
Lines A, B, C and D
123·5
66