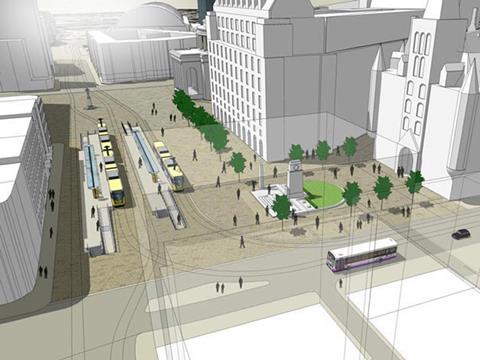 UK: The government has approved a Transport and Works Act Order giving Transport for Greater Manchester legal powers to build a second Metrolink light rail route through the centre of Manchester.
Intended to relieve pressure on the heavily-used existing route, the second city crossing would run for 1·6 km from near the existing Deansgate-Castlefield stop, through an enlarged St Peter's Square stop and along Princess Street, Cross Street and Corporation Street via new stop at Exchange Square, re-joining the existing Metrolink line near Victoria station.
TfGM intends to call tenders shortly, with construction scheduled to start in January 2014 for completion in winter 2016-17. The budget has not yet been disclosed.
'This is fantastic news and means we can now press ahead with developing the detail of the delivery programme, appointing a contractor and getting work started as soon as possible', said Councillor Andrew Fender, Chair of the TfGM Committee, on October 7. 'By providing the necessary capacity, flexibility and reliability for the future tram network to operate, the second city crossing will play a vital role in helping to build a strong and prosperous economy for Greater Manchester.'